"One should not look at governance as a literary point to be made in a manifesto"
~ Rajlaxmi
Giving India its audacious opposition party by 2029, made up of millions of educated and rational Indian youth.
EDUCATION, DEMOCRACY, JUDICIARY, RELIGION, SPIRITUALITY (YOGA), SCIENCE, TECHNOLOGY, PLANTS, FOOD, OCEAN, SHELTER, FEMINISM, PATRIARCHY, SUBSTANCE ABUSE, MENTAL HEALTH, AND, PERHAPS, A NEW POLITICAL PARTY TOO.
All to be woven into one app. That is the product the below mentioned man is building.
After the product, Nishchal intends to get on the journey to take its impact along with Preseed's to the grass roots of India. He will be among your primeminesterial candidates someday with strength of character and awareness, through the contemporary self, unlike any other Primeminesterial contender of the past. . How will we measure that? By actually finding out, the obvious - life of action historically, if need be, from birth; and - how many unprincipled, easily swayed, infirm (but, only conviniently firm about dogmas and easily sold to money to comprimise on dogmas, simultaneusly, दोग़ला/double faced), corrupt, lazy, dumb, obstructive, evil, dramatic, passive, aggressive and bitter forces did that person righteously piss off to hold his culture's values intact regardless of the costs.
In case of Nishchal we can safely say, many, and still counting. He bets, the same people who he may have piseed off may still have grand words for him if they speak from their silent core. Why? For, only truth he revered. We are not talking about ordinary kind of pissing of with one's audacity. We are talking about, pissing off the wrong one pointing the gun on you, kind of pissing off. Why? Because in law of the land he trusts.
So, we will bow down to nothing, no one, except the law of the land. For the culture at Preseed, Nishchal will ensure is the culture of truth and fearlessness. Culture is everything. Our culture is about technological research and development, above all else that you will find here.
Our app called
Chattodo/कार्यकरता
is our next step for you. It is here that that our party members will communicate and collaborate with each other to craft our vision of India. Our party Chatbot will take your onboarding forward. To know about Chattodo and its vision,
visit its full vision on chattodo.preseed.in/vision.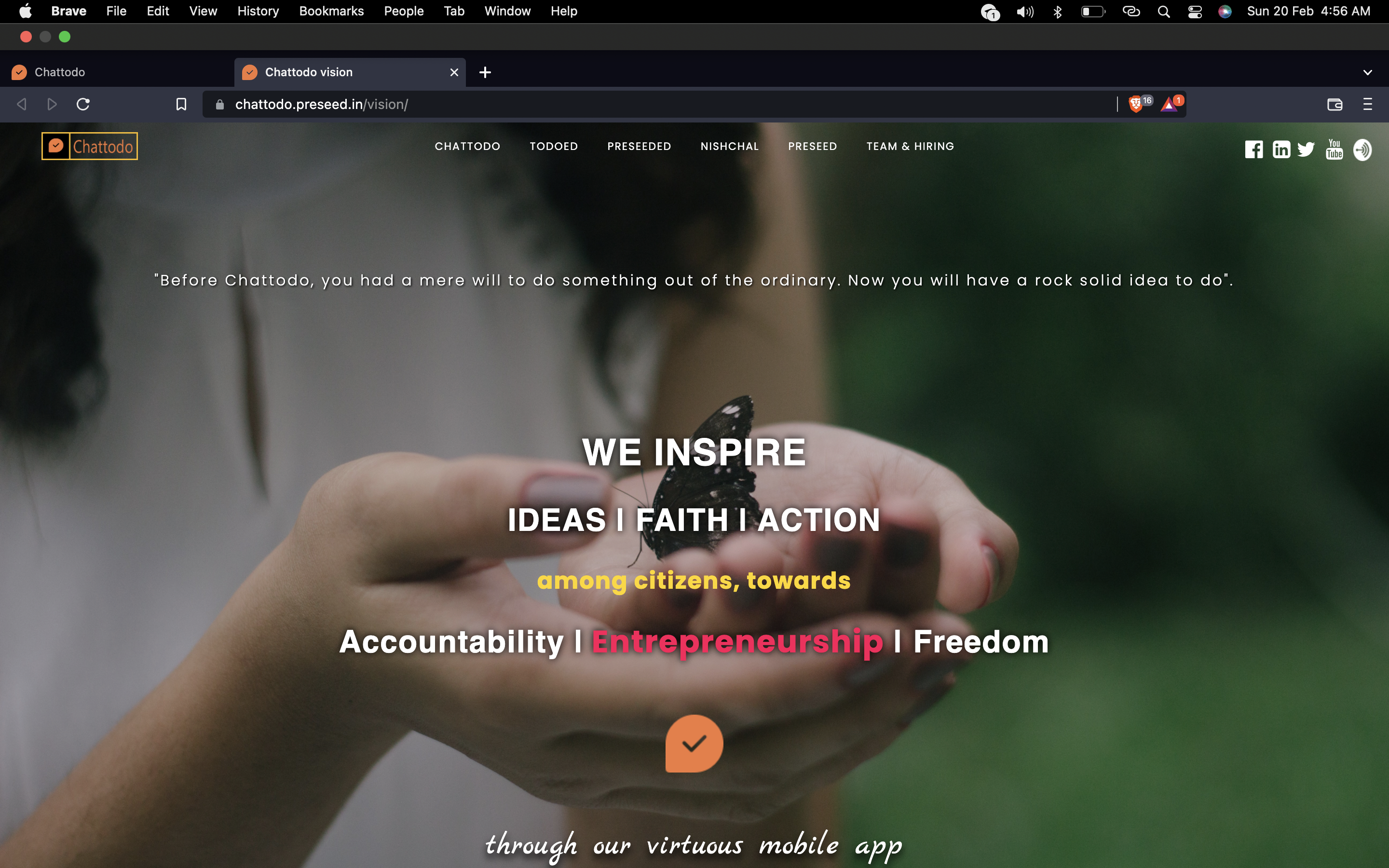 We want to give greater freedom to humans in order to make a few among them, a new breed of conscientious humans. We believe that the right time has come to fulfill our goal and this is also the right time for political will to join that same entrepreneurial goal. For, we are first building this app to launch our founder, Nishchal's own political movement. His party may become the first political party in the world to have its 'own' communication app. RSS can continue on whatsapp while Nishchal's party will build its members force on Chattodo.

We are ensuring for us, that we have a role to play in the election of the future prime minister of India, by way of the questions we will ask, and the answers we will revceive from what will be know as the Preseed team. May the best human win! Whether from the Preseed team or not, is secondary for us. So, the establishment will always be asked questions and/or shown pathways by way of our prototypes. We invite them to do what we are doing, for the sake of our country, BHARAT, that is India. And, if they do, our goal would be achieved!
We hope you can see why we have designed our organisation towards public support far more than VC investments. So, we may fail in excercising the liberties that come with public support and love just like any other potential citizens movement would in a democracy, if you do not pay attention to us, with trust in the world of mistrust.